Archery Park is Open for Self-Guided Access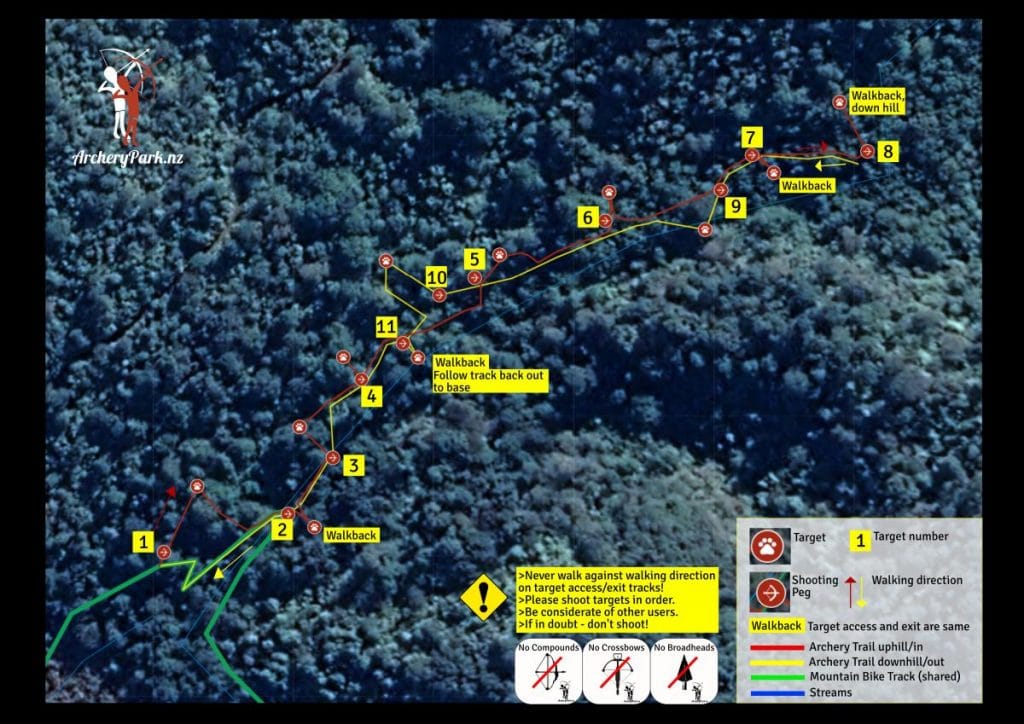 Visit New Zealand's only 3D Field Archery Range with 7 Day Access
Archery Park Nelson's highlight for sure is the 3D field archery range with currently 14 * 3D archery targets at 11 stations placed along a walking trail in the most stunning native New Zealand forest. 
More targets will be added over time and shots will increase in complexity and difficulty as you all become better and better at it. A great sport or fun outdoor adventure for anyone and a sure way to get the kids to participate in a family adventure.
Don't forget to bring a lunch and swimming togs in summer to take a break and a dip in the crystal clear stream that runs through the 3D archery range.
You can visit Archery Park on your own – please read on to see if you qualify (or click here if you're in a hurry).
Plan sufficient time! Archery Park has walking access (or you can bring your bike) only for visitors. The Target Range is 500m from the reception and the 3D Archery Course is 1km from the reception.
Only certain archery gear is allowed – please read on to see what you can bring.
Strict access and safety rules apply and access is at your own risk – please read on to understand what is involved.
After heavy rain the stream that needs to be crossed might require gumboots or wading through or it may not be possible to cross at all.
We recommend you carry a first aid kit and a charged cell phone with you.
Currently access to the 3D archery course is occasionally limited by other activities – please check with the Cable Bay Adventure Park before you head out. Call 03 – 545 0304 to get an update.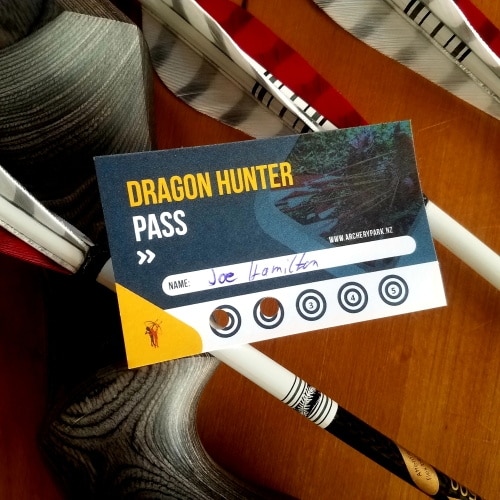 Open daily from 9:00am to 4:00pm, last access to the 3D archery course is at 1:00pm.
Green fee for a single visit is $15.00 or you can save $3 per visit with a 5 visit multi pass for only $60.00. 
Each visit includes the use of the target range and up to two rounds in the 3D archery course.
Rental gear will be available for $25.00 per person, lost or broken arrows will be charged at $10.00 each. A $200 bond will be held for the rental gear (either cash or credit card)
Please call in at the Cable Bay Adventure Park reception to get your tickets and to sign in. No booking is required for this activity.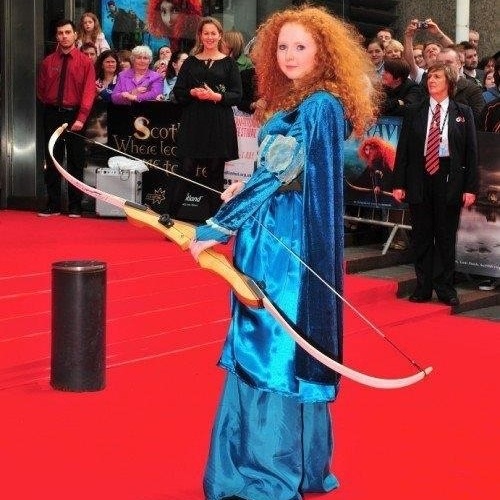 Check If You Are Qualified To Go
Everyone that has done our Dragon Hunt Archery Adventure is welcome back – we will have a record of your visit on site.
Members of NZFAA, Archery NZ, NZ Bowhunter Society and all members of any of the South Island archery clubs are welcome. In order to proof that you belong to one of the above associations or clubs please ask your club administration to send us an email with your name. Please plan several days ahead for this to happen!
Your club administration is welcome to send us a list of all current members and we will add it to our on site records.
Not yet able to go on your own?
Book our Dragon Hunt Archery Adventure now to get future access!
Archery Equipment, Park Access and Safety Rules
A lot of effort and time has been spent to make Archery Park as enjoyable and safe as possible. The 3D archery course follows all safety regulations of the IFAA. But in the end it all comes down to you. Please read and understand all our safety rules.
At each visit you are required to sign a waiver describing the rules and that you enter Archery Park at your own risk. You will also be handed an information brochure repeating the rules below as well as two score cards. 
Not following any of the rules may result in an immediate ban with no refund given!
Allowed Archery Equipment
Check if you can use your archery equipment. If you can't, we do have rental gear available.
Only longbows and recurves are allowed.
Arrows must have field or target points.
Bows must not exceed 60lbs @ 28" draw weight.
Compound bows, crossbows, arrows with broadheads etc. are not allowed.
Archery Safety Rules​
Ignoring these rules will put your and other people's life at risk!
3D Archery Range Safety Rules
You must …
always demonstrate safe behaviour – if in doubt: don't shoot,
never dry fire (shoot without arrow) any bow,
no sky-shooting (shooting up in the air or drawing or aiming high above target),
always wait behind the shooting archer,
only nock an arrow (place an arrow on the bow string) when you are at the correct shooting position (coloured peg in ground or shooting line) and you have checked the area in front of you is clear of all people and any living creatures,
shoot within your capabilities – yellow pegs are for kids and absolute beginners, red for novices and blue for advanced
only retrieve arrows when it is safe to do so and you have checked this with all other present archers,
ensure a member of your group stays in front of the target and bows are leaning against the target when you have to go looking for arrows to signal that the target is not clear,
check your arrows for damage after each shot,
always store your arrows in a quiver,
stick to the marked track and follow all course signs and direction indicators when moving through the course – take no shortcuts,
always walk forward through the course – do not return to a target.
Target Range Safety Rules
Please follow the rules as stated on the information board at the practice range.
Be considerate of other users.
Adventure Park Access
Please follow these rules while visiting Archery Park
The park is a shared space. You will encounter other visitors, mountain bikers, horses, quadbikes, cars etc.
Your arrows must stay in your quiver until you're at the target. Never shoot outside the marked archery ranges.
You can only walk from the car park. And you can bike. But you are not allowed to drive onto the property.
Wear sturdy shoes, there are streams to cross and rocks to climb. Ensure you're fit enough for this.
Plan your visit so that you are back by 4pm. Cars that are parked on the grounds will be locked in when the park closes.
Access may not possible when Paintball games are on. Check with staff! If you need to be 100% sure call before your visit.
You must check in at reception for each visit. Access may be denied due to conflicting operations.
You must not be under the influence of alcohol or any drugs.
Smoking and vaping on the archery grounds is strictly forbidden.
Guided tours have priority.
Understand that not following the rules, equipment failure, accidents and generally being outdoors can cause serious personal injury, including the loss of eyesight or death.
Archers Etiquette
When approaching another group in front of you keep your distance and remain quiet.
Return any found arrows to the reception.
Do not sit on targets – their legs can break.
Never ever move targets or pegs. But tell us your ideas!
Don't shoot all your arrows on a target. Each arrow causes damage and wears out the target.
If you spot anything that needs our attention please let us know!
Check Out Maps, Archery Scorecards, Etc.
Make Yourself Familiar with Archery Park
The maps will be updated whenever we make changes in the 3D Archery Range. Laminated copies are available from reception. Please return them after use – we like to reduce paper waste wherever possible.
Getting to Archery Park Nelson​​
Archery Park is only a 15-minute drive from Nelson Central. We're located at Cable Bay Adventure Park on 194 Cable Bay Road, Nelson.
Drive 14km north from Nelson City towards Picton. Turn left into Cable Bay Road at the sign posts Cable Bay. We are 2 km down Cable Bay Road on the right-hand side – look for the Archery Park Flag and the Cable Bay Adventure Park sign.