Archery Battle – Fast and Fierce
Draw – Aim – Shoot – Win! A fast paced action archery team game. The perfect alternative to paintball!
"You can shoot at your colleagues! What's a better way of improving team chemistry than shooting foam arrows at each other?" – Trip Advisor Review
Shoot Your Friends With Bow And Arrow
A competitive, fun and fast archery action game that puts all your skills to the test.
Think of Archery Battle as a cross between Dodge Ball, Paintball and Archery. Perfect to blow of steam for families, friends, groups and work colleagues.
Epic battles with bow and arrows
Safety arrows with foam tips and safety masks provided
Introduction into archery included
No messy paint and less pain than Paintball
You will want to come back for more
Archery Battle is Archery Parks take on the popular game of Combat Archery. Varieties exist under the brands Archery Tag, Archery Attack, Dodge Bow and others.
If you have any questions, call us on 03-398 8043, or contact us here.
Bookings are essential! Your booking enquiry will be reviewed within 24 hours.
Epic archery battles await you
How is Archery Battle played?
Archery Battle is a team sport where you shoot safety arrows at each other.
Two teams are engaged in an epic battle with up to 12 players playing at the same time. For more than 12 players we will form more teams to play against each other in rotation.
In order to win you either eliminate all other players or knock out all the disks from your opponents target, but on't forget to protect your target and your team mates from becoming decimated.
Not all is lost when you get hit, though: Watch your team and when they knock out a disk from your opponents target or catch an arrow mid air you will be allowed back on.
We let you play as many rounds as you can fit in 1 1/2 hours.
An introduction into archery will be provided by our Master Archer, and you get the time to work on your skills before you go on the battle field. No experience in archery is required.
The total playing field is 10m*25m.
Each team has their own half of 10m * 10m and defends their players and their target against the opponent team.
Separating the teams is a 5m wide no-mans land in which all arrows are placed at the beginning of each match.
Barrels provide necessary cover for you to load your bow and to take cover from arrows flying your way.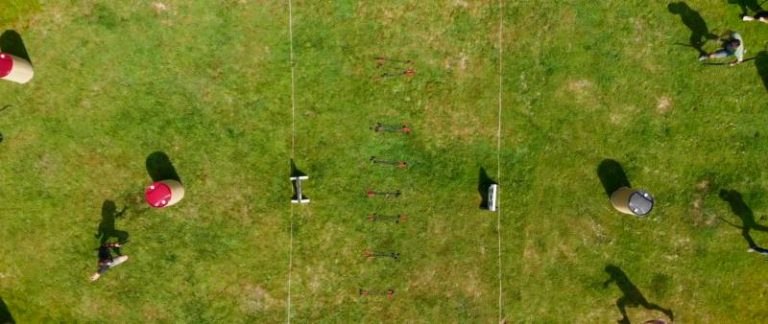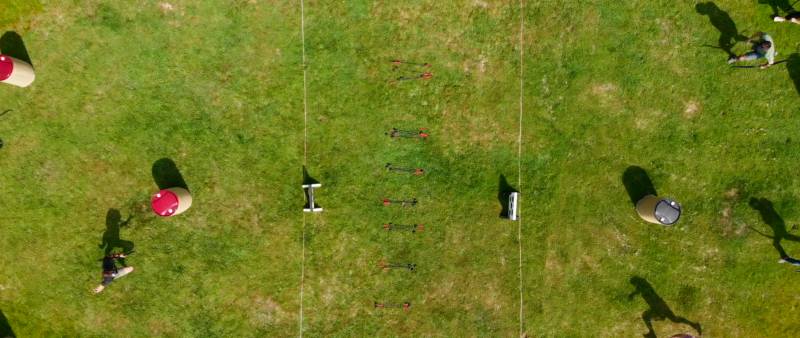 The Archery Battle arena from above
Archery Battle Safety Equipment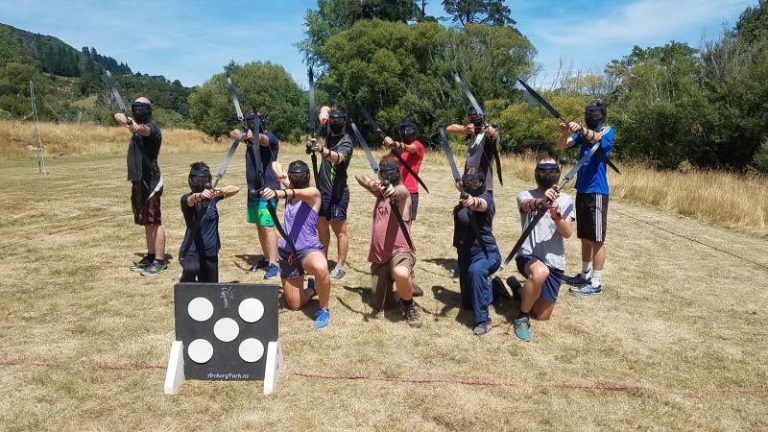 Archery Battle players ready for action
Play with the Very Best Archery Gear
The Archery Park team is dedicated to traditional archery. All the gear for our guests is carefully selected and tuned to perfection. We wanted to provide the same experience for our Archery Battle Gear.
Archery Battle Bows
Bows used for Archery Battle need to be super strong: they need to survive hits by arrows at full draw or the occasiobal slam against a cover or the ground. We selected bows from a manufacturer that has been making bows for this game for a really long time and supplies them world wide.
At 24 pound draw weight they can be used by almost everybody but still pack a punch strong enough to be feltwhen you're getting hit.
Archery Battle Arrows
We set us two objectives for the arrows: 1) The arrows needed to be extra safe! and 2.) The arrows needed to be extra accurate!
We found our arrows in Germany: Extra precise and extra safe. They are consistently rated for their safety in this sport. Each arrow is insured for $5million by the manufacturer, they fly straight for 50m and we hit bulls eye with them every single time (well nearly every time, we have bad days, too).
Archery Battle Masks
We equip every archer with a real paint ball mask by German manufacturer Dye. The mask must be worn at all times while on the field. If a mask is certified for Paintball then it is guaranteed to work for Archery Battle.
We also equip everyone with an armguard to reduce the impact of any string slap.
Cheap safety arrows can break into sharp pieces or the thin arrow shaft can pierce through the foam head. Both is known to cause serious injuries! 
To prevent this problem all our arrows have an impact distributing plate inside which stops the shaft from piercing through the foam head. In addition our shaft material, which already is extremely hard to break, will never break into sharp pieces but will resemble a soft brush. For the perfect safety package the nock ends of our arrows are rounded.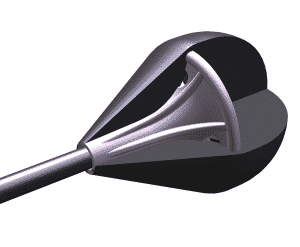 The inner view of an Archery Battle arrow foam head.
Costs
Costs per player are $30.00.
We require a minimum of 8 (4 vs. 4)  players per booking.
We let you play as many matches as you can fit in a 1 1/2 hours game.
There are no hidden costs and you don't have to buy extra arrows as you will never run out – just pick them up and shoot them back.
More than 12 players:
If you like to play with more than 12 players we will form additional teams that play in rotation or use subs.
Game time will be extended by 20mins for each extra team.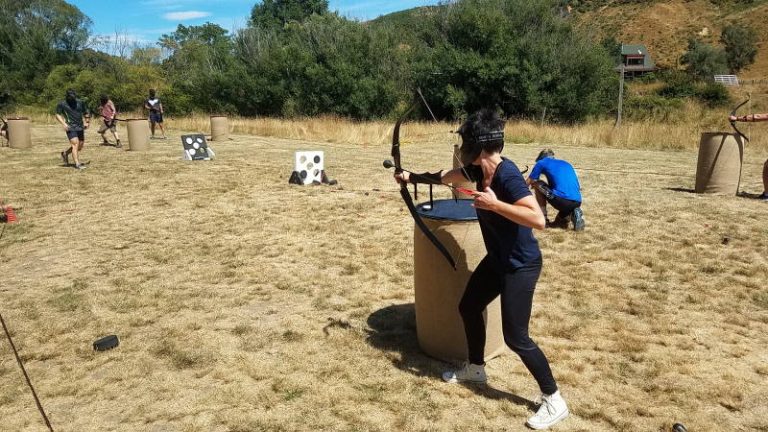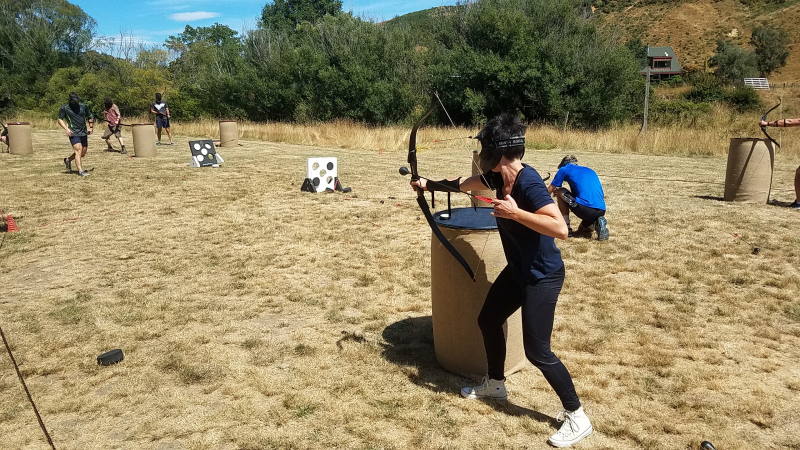 Archery Battle is fast, fierce and fun!
Frequently Asked Questions
The details of Archery Battle
Who can play?
The minimum age for Archery Battle is 10 years. We will require guardian supervision and a waiver signed by parents for anyone under the age of 16.
A minimum level of fitness is required as you will need to draw a bow again and again and will be moving on the field in order to avoid being hit by arrows.
What to bring and wear?
Archery Battle is an active game. Just wear clothes you would normally wear while doing sports and you will be fine. Some good trainers will be helpful for better traction on the grass. Jewelry and piercings should be removed or covered. You should consider bringing a water bottle.
Does it hurt?
Everyone's reception of pain is different. In our own experience it feels a bit like being hit by a tennis ball thrown at medium speed. People tell us that they're surprised by how little they feel the arrow, just enough to know you need to go off the field. It's definitely a much nicer experience than being hit by a paintball bullet.
Bad Weather?
If the forecast is for severe rain we may cancel games and issue a full refund. We can play in light drizzle as long as you're up for it. But note that wet grass is more slippery than dry grass and we don't take any responsibility for sport injuries caused by slipping or tripping.
Is it safe?
Combat Archery, and therefore Archery Battle, has a low risk profile. We equip every player with a paintball mask to avoid injuries to the face and provide an armguard to prevent string slap. Our safety arrows are world class and our equipment is well tuned and checked before and after each booking. We will give a health and safety briefing before the game starts and will provide basic archery instructions. This will make for a safe game but some risks remain.
Is there still some risk?
While we take due care to make Archery Battle safe, we don't take liability if game rules are not followed by players or masks are removed during the game.
There is also a risk of normal sport injuries as they may happen in any other team sport like football, netball, volleyball etc. of which you must be aware and accept the likes of.
There is a small risk that you may fall on to your or someone else's bow, that you may get hit by an arrow shaft, broken arrow or the arrow nock causing an injury. By playing Archery Battle you do accept those risks as yours.
Our staff have a valid 1st Aid certification and a 1st aid kit on site, but we intend to never needing it.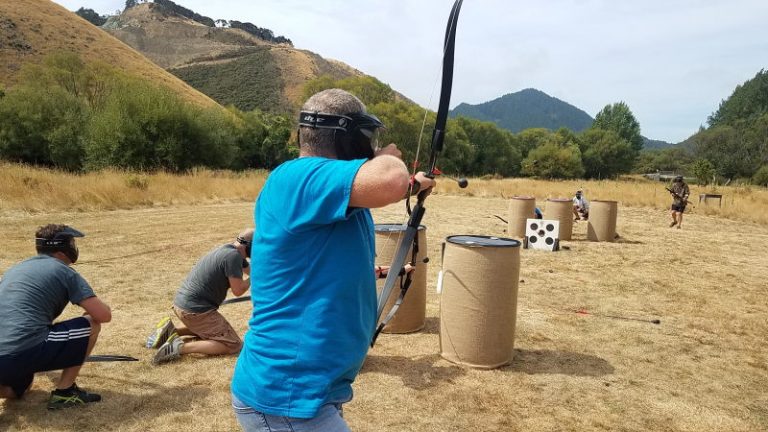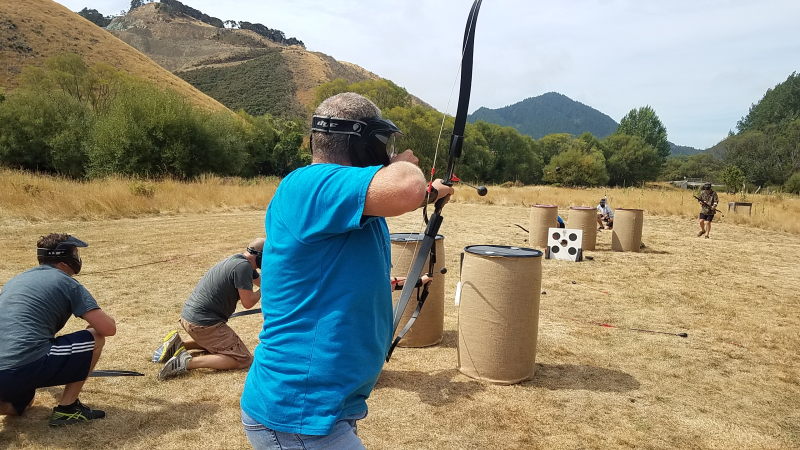 All ages: We had Archery Battle players from 10 to 75 years of age!
Our visitors, young and old, local and foreign, experienced and absolute beginners alike have raved about their experience at Archery Park.
But no need to take our word for it – see for yourself what they have said:​
A great day out with Markus in the bush! He was incredibly patient and helpful with the kids, and then incredibly patient and helpful with the adults! While we all... read more could have probably used more training on the range, the point of the Dragon Hunt is to get out into the bush and shoot at 'real' targets. The walk was beautiful, and the targets were interestingly placed for a range of different shooting experiences. Markus kept us focused and motivated, and somehow found the perfect blend of letting us do it ourselves and offering useful tips for improvement. After the first few targets we were encouraged to try some of the more difficult shots where possible (or where we wouldn't hurt ourselves or break arrows!). Even the communal scavenging for lost arrows was enjoyable, if not quite as satisfying as pulling them out of a target. Above all, it was wonderful to spend time with someone who genuinely loves what he does and sharing it with other people. We'll definitely be back next time we're in Nelson!

RJY81


10/13/2020

Huge amount of fun, our party ranged from 13 yrs to 76 yrs and we all loved it. Markus was an excellent instructor and guide, the setup and location are... read more great, and the overall concept of the activity is brilliant. Good value too for 4 hours. Highly recommend you give it a go, I'm looking forward to going back.

anzlmjd


10/07/2020

Highly recommend Archery Park Nelson. Have thoroughly enjoyed the Have a Go session, and the Dragon Hunt.

Loved the 3D targets in a beautiful native bush backdrop. Great... read more local activity, we will be back for a third time!

Group of 6 ranging from 12 to 50s all loved this activity and will recommend to our friends.

Cazandizzie42


10/06/2020

Our guide Markus was very knowledgable and experienced. He was a great coach for two of us: a first time archer and someone who hasn't picked up a bow since... read more I was a kid. Very practical and methodical in his approach to get the best fundamentals on the target range before heading into the woods. We had a blast in the forrest with the 3d archery dragon hunt and highly recommend this unique and immersive experience. It is something different than the usual outdoors New Zealand offerings and I look forward to bringing my kids sometime as the course is well laid out for different skill levels and experience so it is something the whole family can enjoy.

jamesatlas


9/07/2020

This needs to go on your must do list, we had never tryed achery before so was surprised by the amount of improvement made in just an hours training on... read more the practice range before heading out to shoot a variety of cool 3d targets along a trail through pristine native forest, great fun in amazing surroundings, much more interesting then a standard shooting range. If you only try archery once in your life, this is where you want to do it.

TPASmith


9/06/2020

We loved this experience. It was a stunning winter's day with bright sunshine and the promise of the brochure matched the experience. Marcus is a knowledgable and helpful tutor who... read more ensures you're safe, secure and quickly hitting the targets.

Then you go into the forest...

Who knew that "hunting" dragons, boar and other life-like foam animals could be so much fun. Walking through the forest and being expertly guided by Marcus was brilliant. I can't recommend this adventure highly enough.

It's a must-do if you visit the Nelson area. Enjoy.

Elocker


8/25/2020

Despite most of our group being complete archery novices, by the end of our training and then dragon hunt in the bush, we were all doing surprisingly well. Markus... read more was an excellent teacher, giving just enough detail to improve without being overwhelmed. He was very patient and made the experience really fun for everyone. Our group ranged from age 12 to age 60 and all had a fantastic time! Make sure you follow the advice given to wear good shoes as the trail is through the beautiful native bush. We would highly recommend this well organised, professional experience. Great fun! We all want to do it again.

norwatt1


8/22/2020

Brilliant mix of archery and light hike! I had never done archery before, but was surprised to find that I wasn't too bad! You get really good instruction - without... read more any pressure or expectation. It was so much fun. We'll definitely do it again.

291elz


8/20/2020

Our family had an amazing half day with Markus learning about archery and shooting his 3d dragon hunters course.
His training was first rate and we learned a lot. So... read more much so that my daughters and I were shooting accurately and armed with skills to continue improving before we left the training range.
The 3d course we shot with Markus guiding is realistic and lots of fun. It's set in beautiful native forest and really was a blast.
Markus was professional, knowledgeable, and patient. We will visit again when we're next in Nelson.

KJs1488


8/10/2020
Click icons for more raving reviews...