An Archery Eco-Adventure 30,000 years in the making
Experience raw New Zealand, learn to shoot the longbow and stalk Dragons with bow and arrow - all in half a day!
"Wow, I highly recommend this to anyone and everyone. Skill, nature, fun and excitement!!" – Trip Advisor Review
Our Most Popular Archery Adventure – The Dragon Hunt​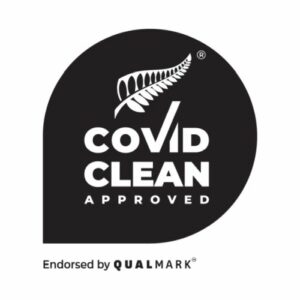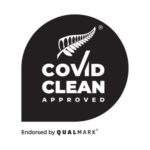 The My Vaccine Pass is no longer required to visit us. Rules around masks and hygiene remain in place.
Prepare for the Best Half-Day Archery Outdoor Adventure in NZ
Suitable for the first time archer as well as experienced archers!
Action, Nature and a New Skill Await you!
Get ready for a half day full of nature, archery and fun.
Experience yourself in a new way and connect with your inner instincts.
Learn a new skill and shoot lots and lots of arrows.
Shoot at lifelike looking foam targets in stunning scenery.
See one of the last remaining areas of native virgin forest in New Zealand.
Experience archery in a whole new format that is unique in New Zealand.
The Dragon Hunt is an archery eco-adventure for beginners as well as experienced archers.
Get free photos of your adventure on the guided tour
Our Enjoyment Guarantee:
If you don't have an epic time at the Dragon Hunt, and are not completely happy with your experience, we will refund you 100% of your payment. No questions asked!
This adventure can be done by people that have never shot with bow and arrow before and will also suit advanced archers.
The Dragon Hunt is a 3 to 4 hour adventure tour – depending on group size.
In-depth archery lessons from our certified and experienced coach and all required archery equipment is included.
You need a medium to good level of fitness and must be happy to walk ca. 3km over sometimes rough, muddy and uneven terrain.
The minimum age is 10 years, all participants under 16 need a participating guardian.
Sturdy shoes are required – tramping boots are recommended!
We can take a single guest and have small maximum group sizes for a personal and boutique experience.
The Dragon Hunt is a 5 star rated tour, with over 200 amazing reviews on Tripadvisor and Google combined.
Archery Park has a Silver Qualmark rating and is Carbon Friendly certified.
Bookings are essential!
Our visitors, young and old, local and foreign, experienced and absolute beginners alike have raved about their experience at Archery Park.
But no need to take our word for it – see for yourself what they have said:​
Awesome experience, from the cafe to the lessons. Marcus is a patient and skilled instructor. An amazing hike through native bush. Highly recommend! Stop reading reviews and just book!

70sagek


May 25, 2022

Marcus was brilliant!
Gave to us the enough tips to improve a lot in only 4 hours!
Also he always keep and eye on us doing little adjustment our technique... read more

bullseyeLionel


May 24, 2022

This was a really fun experience. From starting out at the archery range to then heading into the lovely forest. We all improved, but the point was really to have... read more fun and we did. Marcus was great, and very accommodating to our rag tag group.

JenLouK


May 17, 2022
Click icons for more raving reviews...
Learn More About The Dragon Hunt Tour
The Dragon Hunt Archery and Nature Experience
If you like to experience raw New Zealand and want some action with it – this is the tour for you!
The worlds longest and most intense archery adventure - suitable for first time archers as well as experienced archers.
Learn to shoot the longbow and get to explore a native New Zealand forest that has been left alone by humans since the begin of time – classified as one of the most diverse nature areas on the top of the South Island: Nelson's cleanest stream, giant towering trees, some of the largest silver ferns in NZ and an active bird life await you.
Archery challenges will keep you entertained throughout the tour: Shoot realistic looking Dragons and other targets uphill, downhill over streams, between ferns and under trees. This is archery in a whole new format and unique in New Zealand!
Your guide has 18 years of archery experience, is a certified archery coach, holds a NZ silver medal and a national archery record. You will get initial in-depth archery coaching and help to master the challenges in the forest archery course.
Free photos and highlights of special nature features are included with the guided tour.
Costs, Start Times and Duration
Costs, Starting Times and Duration
We have updated our prices and applied our discounted local Nelson-Tasman rate for all New Zealanders and offer group discounts as well.
Please plan 3 to 4 hours for your adventure and be prepared by reading through our recommended pack-list below.
Guided Tour
After detailed lessons your coach leads you on the Dagon Hunt. You will not just learn all the tricks to shoot in a forest and using mental focus but also about the impressive nature. Free photos and transport with a 4WD van are included.
1hr of in-depth archery coaching at our practice range by our archery coach

All required equipment (bow, arrows, armguard, quiver to carry your arrows. No charge for broken or lost arrows.

A guided visit and deep dive coaching on the Dragon Hunt loop of our 3D archery course with 10 target stations in native bush

Transport with a 4WD van where possible, but sill some walking to do
Self-Guided Tour
Receive in-depth archery coaching on the practice range and then visit our Dragon Hunt 3D archery course on your own. Bow in hand, arrows ready you'll enjoy the beautiful nature and target course in your own time. Plenty of walking included
1hr of in-depth archery coaching at our practice range by our archery coach

All required equipment (bow, arrows, armguard, quiver to carry your arrows. $15 charge per broken or lost arrow).

A visit of the Dragon Hunt loop of our 3D archery course with 10 target stations in native bush

Lost or broken arrows are charged at $15 per arrow

Lots of walking, map reading and keeping an eye on the track is needed
Great Value For Money
A great half day out, great value for money. Start out slow to get the technique right and then go for a walk through the native bush shooting targets. A great sense of achievement at the end of it…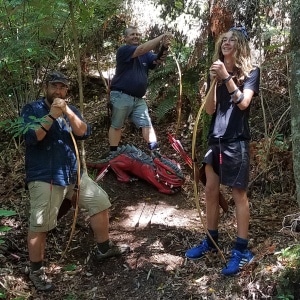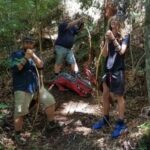 Scott Carpenter
Tours run every day and several times during busy season. Just choose the day and start time that suits you best in our online booking system. Please be on time as we will all depart together.
It is essential to book in advance as all tours are by arrangement only and are limited to a maximum of 6 people for the guided and 8 for the unguided option.
Our Enjoyment Guarantee:
If you don't have an epic time at the Dragon Hunt, and are not completely happy with your experience, we will refund you 100% of your payment. No questions asked!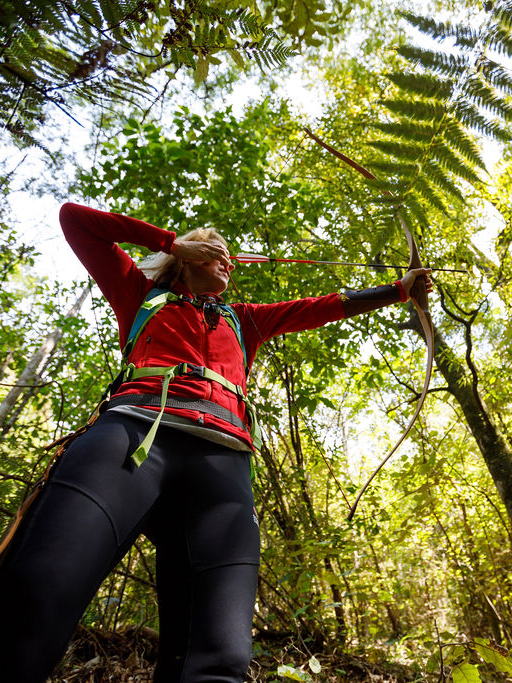 Learn how to hit the spot using your body and mental focus
Learning To Trust Your Instincts...
You might be thinking that instinctive archery takes years to master, but we show you the right posture, how to hold and draw the bow, and before you know it you will have started your journey into instinctive archery.
You will develop the ability to shoot your arrow into the exact spot you're mentally focusing on. While this technique takes a lot of practise to master, we always see great results with our training method and you will feel the rush of adrenaline as you see your arrows hit their mark.
... and Shooting a Real Longbow​
You will shoot feathered arrows with a real longbow and look and feel like a pro with your armguard and quiver. Just like your favourite fantasy figures from the movies… 
We have gone to great lengths to find longbows suitable for beginners, as we want you to have the best experience. The arrows are custom made to be a perfect match for the bows. The Archery Park gear for guests is maintained to the same standard as our own personal archery gear.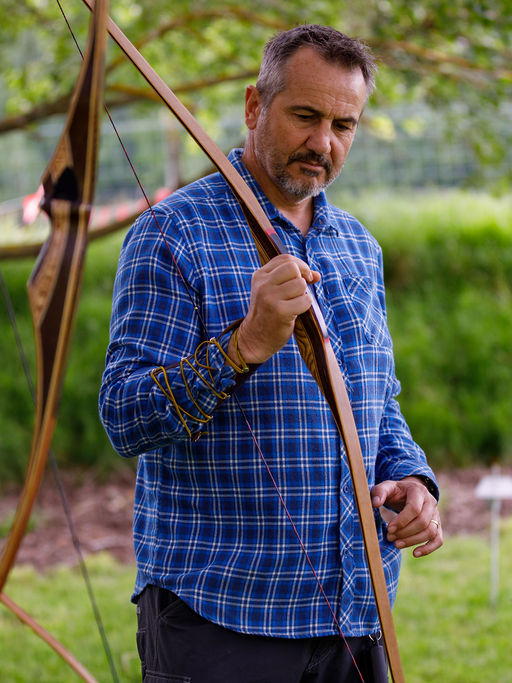 The longbow is the purest form of archery – no sights and no modern technology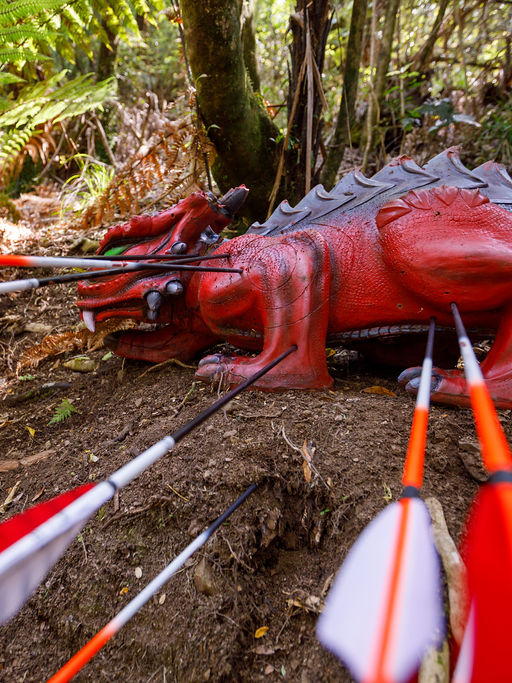 Experience archery on a whole new level with our special 3D archery targets
... at Lifelike Game and Fantasy Targets
Special archery targets in various shapes and sizes await you thoughtfully placed throughout the park. Shoot at targets in the shape of a boar or rabbit and meet some marvelous fantasy creatures like Dragons.
... in Spectacular Native New Zealand Forest
Follow a short tramping track along Nelson's cleanest stream that leads into over 120 hectares of pristine native bush and enter a forgotten world.
Miraculously missed by generations, you'll experience a New Zealand forest that remains in a pre-human state and is part of the rare last 5% of New Zealand virgin forests. Walk under Totara and Maitai trees that are hundreds of years old and tower high above the forest and shoot between silver-ferns that are among some of the tallest around.
Our trapping program ensures that you will get close to New Zealand bird life, with Bellbirds, Robins, Tuis, Kereru and Fantails abundant. And if you're lucky you will spot a pair of the extremely rare native NZ Falcon that calls this place home.
Relax in some of Nelson's finest nature and leave civilization behind.
Get up close to fully grown Silver Ferns, 1000 year old Maitai and Totara trees and learn about NZ nature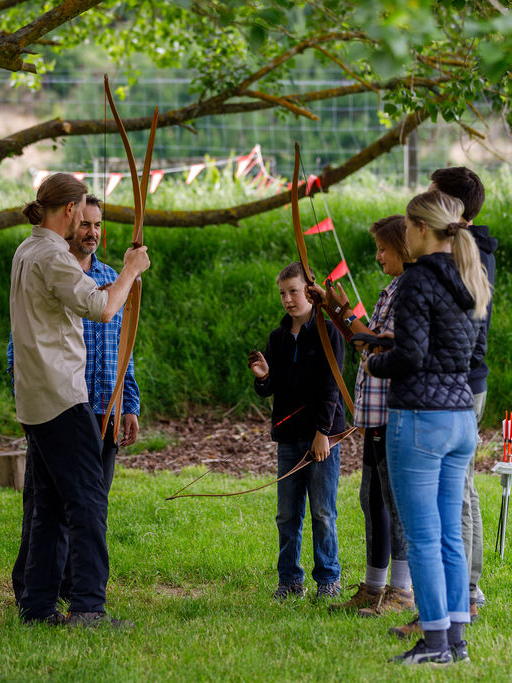 Learn all the archery skills required from our certified archery coach at the practice range before facing dragons and other creatures
...and being Trained By An Experienced and Certified Archery Coach
Your trusty guide and archery coach is long time longbow archer Markus. He has been practising the sport for over 18 years and has now made his life-long dream a reality by opening Archery Park to share with you his passion and knowledge in this beautifully tranquil park.
Markus is a certified NZFAA community archery coach, has built his own bows and arrows and has trained hundreds of archers. He is actively involved in the professional field archery sport. He has won and organised several archery tournaments and recently won the silver medal in his division in the 2018 NZFAA Bowhunter Nationals. He also holds the current NZ record with the highest score shot at a 20 * 3D archery target tournament with a historic bow.
Markus is a member of the Traditional Archery Society, the New Zealand Field Archery Association (NZFAA) and the New Zealand Bowhunter Society (non-hunting, but enjoying their tournaments). He has also been an administrator for one of Europe's largest traditional archery internet discussion boards.
An Outdoor Archery Adventure That You Will Never Forget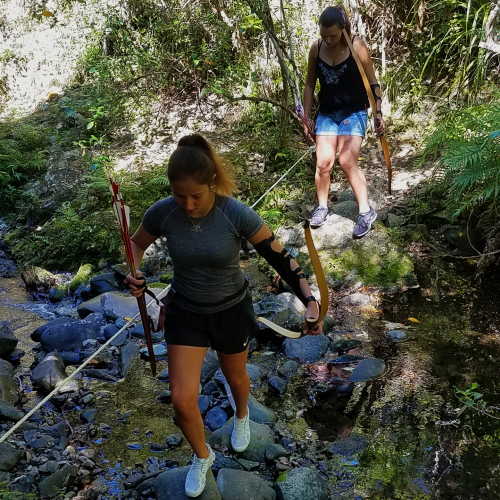 Exploring untamed nature, walking unformed tracks and maybe even crossing streams is all part of your archery adventure
What to wear
All you need is a pair of sturdy shoes, weather appropriate clothes and a sense of adventure. Our unique forest archery adventure takes place along a 3 km track with uneven ground and may include stream crossings using only a rope handrail and boulder hopping. Jandals (flip-flops) are not appropriate footwear!
What to bring
Bring sunscreen and insect repellent, water and a snack – carry it in a small backpack so that you have your hands free for your bow.
Carry your emergency medication if you are allergic to wasp or bee stings or anything else you might encounter outdoors. And please advise us about this when you book.
Can you do it?
You need to be fit enough to walk an outdoor track of about 3km which has uneven, unformed, steep, muddy and narrow sections. It can be slippery in places.
But we do not expect you to know anything about archery as we will give a full archery coaching session at the start of your adventure.
Minimum age
The Dragon Hunt Archery Adventure is suitable for kids from the age of 10 onward. They must be able to walk for ca. 3km and be able to spend 3 hours outside in the bush as we can't return to base in the middle of the tour. Children must be accompanied by a guardian that must also participate in the archery experience.
If they are under the age of 10 but have experience in archery or are fit and very coordinated from other sports we may agree to their participation, but contact us before you make your booking so that we can assess the situation.
Bad weather cancellations
Heavy rain and strong winds severely affect arrow flight and can create risks on our tramping tracks. Should we have to cancel a session because of a bad weather, we will try our very best to advise you on the day before your booking at around 5 pm. A full refund will be issued. 
Do it, it's a lot of fun
Do it, it's a lot of fun. Marcus is friendly and has a passion for archery and that shows during this lifelike experience. Not your typical range by no means. A+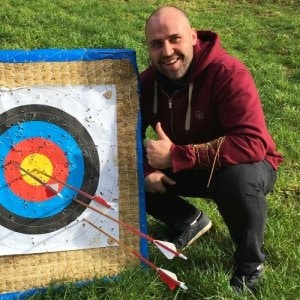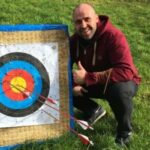 Daniel Leckie