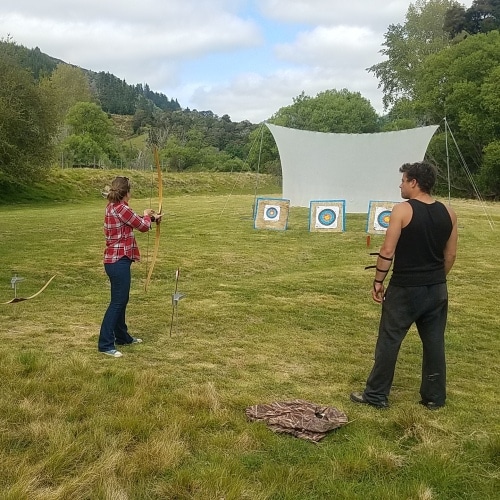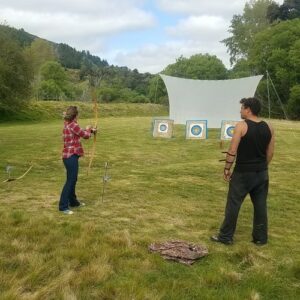 Archery Lessons at Archery Park Nelson
Come out to Archery Park Nelson for a casual drop-in and get an introduction into archery and your first archery lesson. 
We keep our archery practise range open at certain times during the week for a casual drop-in session. Our NZFAA certified archery coach will be on site and will give you a brief introduction and provide you with all the gear required. We will gladly point out how you can improve your technique.
Archery lessons according to NZFAA best practise
Rent all the archery gear required
No previous experience needed
Certified archery coach on site
Try archery with no pressure
Costs: $30 per Person for ca. 45mins
Opening times for Have-a-Go at archery
Individual bookings are prioritised. To avoid disappointment, please give us a call on: 03-398 8043 to check that the range is open before you spontaneously come out.
From 1 May 2019 the range will definitely be open every Sunday from 10am to 1pm! No need to call. Just come by.
We also try to have the range open at the following times:
Tuesday: 2:30pm to 4.00pm
Wednesday: 2:30pm to 4.00pm
Friday: 2:30pm to 4.00pm
Saturday: 2:30pm to 4.00pm
Sunday: 10:00am to 1.00pm (always open from 1 May 2019 onwards)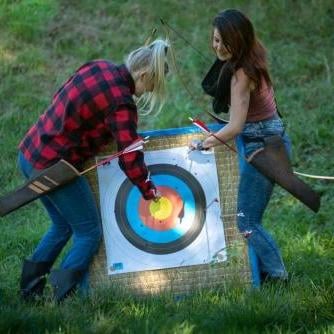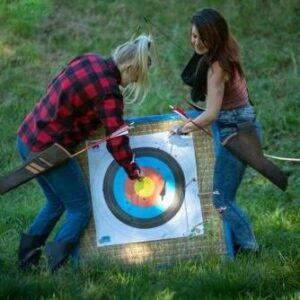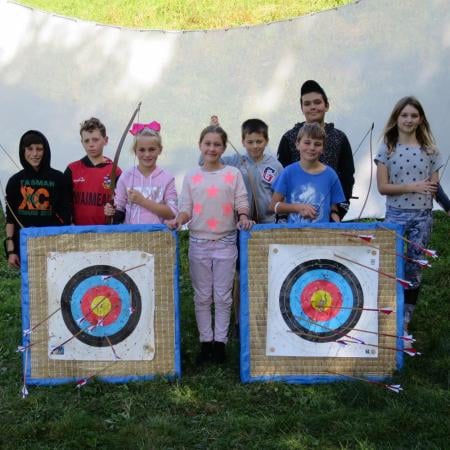 Book us for your Archery Birthday Party!
Experience a special event for a young Katniss Everdeen or Robin Hood
Book our practise range for your birthday party and have fun learning archery.  
Party guests will enjoy learning archery under supervision of an experienced and certified archery coach
Shoot with real longbows and real arrows at real targets 
Experience the thrill to shoot at our special fun targets
Play archery games and have a friendly competition
Costs
Prices for birthday archery activities start at $240 for ca. 2 hours of archery with up to 6 kids. Each extra kid will be $30, with a maximum group size of 12.
What you need to take care off
We will require your presence and help to supervise the kids. You may also want to bring a few small snacks and drinks.
Book your archery birthday party now!
Give us a call at 03-398 8043 or contact us here to book your kids birthday archery party.
Also check out our Battle Archery game.