Amazing Archery Adventures
The #1 Outdoor Experience in Nelson on Tripadvisor - Explore a stunning native bush with bow and arrow on the world famous Dragon Hunt.
"Wow, I highly recommend this to anyone and everyone. Skill, nature, fun and excitement!!" – Trip Advisor Review
Nelson's Only 3D Archery Range & Tours
Dragon Hunt Archery Experience
Become an archer as you hunt for Dragons and lifelike archery targets while enjoying ancient NZ native bush at its finest. You'll be crossing glistening streams, listening to the songs of native birds and sneaking between the trunks of giant trees during the Dragon Hunt. No experience needed, full training and all the high-quality traditional Archery gear is provided. So, are you ready to hunt a Dragon?
Team Building and Work Functions
Looking for an activity to excite your team at the next corporate event? How about something that's fun, active and a little competitive? We tailor your event to suit your needs. Compete for the best archer on our range and try your skills at lifelike archery targets or battle it out in an epic Archery battle. To mark the occasion and reward the most deserving, medals are provided to the organiser to give out to the most legendary competitor.
Have-a-Go, Archery Lessons & Birthday Parties
Maybe you've always fancied having a go at Archery – feeling like the movie legends. Maybe the thought had never crossed your mind but you think it could be something you'd enjoy. Maybe you've done Archery before and would like somewhere to practice. Come to our range during the casual drop-in times, book a lesson or bring a team for a fun birthday event. Coaching and all the traditional Archery gear you need is always included. Come on, give it a go.
Archery Battle – Fast and Fierce
Are you ready to shoot a mate with bow and arrow? Archery Battle is our take on the game of Archery Tag – fun, fast, safe and full of action. Think of Archery Battle as a cross between Dodge Ball, Paintball and Archery. There are no painful bruises like after paintball and it's completely safe. Great fun for teams and groups. Come out for an action-packed afternoon of adrenaline and a good dose of competitive fun.
Guest Archers & Training Facilities
Archery Park welcomes qualifying traditional and recurve archers to use our facilities for training and fun. Purchase your ticket with your smartphone from the information board in the Adventure Park Reception window. You can use our 3D course and/or practice range. Please make yourself familiar with our rules and regulations before you visit. Access is possible during Cable Bay Adventure Park opening times.
Our Most Popular Archery Adventure – The Dragon Hunt​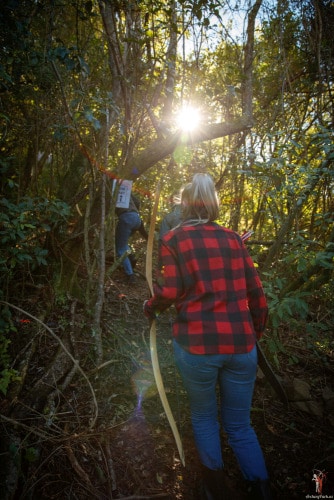 The Dragon Hunt Archery and Nature Experience
If you like to experience raw New Zealand and want some action with it – this is the tour for you!
Learn to shoot the longbow and get to explore a native New Zealand forest that has been left alone by humans since the begin of time – classified as one of the most diverse nature areas on the top of the South Island: Nelson's cleanest stream, giant towering trees, some of the largest silver ferns in NZ and an active bird life await you.
Archery challenges will keep you entertained throughout the tour: Shoot realistic looking Dragons and other targets uphill, downhill over streams, between ferns and under trees. This is archery in a whole new format and unique in New Zealand!
Your guide has 18 years of archery experience, is a certified archery coach, holds a NZ silver medal and a national archery record. You will get initial in-depth archery coaching and help to master the challenges in the forest archery course.
Free photos and highlights of special nature features are included.
Our visitors, young and old, local and foreign, experienced and absolute beginners alike have raved about their experience at Archery Park.
But no need to take our word for it – see for yourself what they have said:​
We had a great time at the archery park. Me as a beginner and my partner as an advanced archer had a lot of fun hunting the monsters among the... read more beautiful native trees. Great instructions. Very knowledgeable and patient. Thanks to their help I saw immediate improvements after a couple of tries.

Mbabuder


January 21, 2023

Had a great time at the Dragon Hunt Archery Experience. The instructors were very knowledgeable and helps me get my techniques right while on the training archery range, before then... read more heading out on a lovely bush walk to the dragon hunt. It was so nice and refreshing being able to do archery in the bush setting instead of just on the target range.

I would highly recommend this experience.

lol_jo_runs_trails


January 9, 2023

Fantastic self-guided 3D dragon hunt experience. The day began with a lesson on the archery range with the friendly and extremely knowledgeable Markus and Zoe. With 8 people in the... read more group, we were all given individual tips and advice. Markus was hilarious and made the more boring (but still essential) parts interesting, such as the safety briefing. We were well prepared by Zoe and Markus to head off into the bush unguided, but we underestimated the difficulty of the bush hike – we almost got lost a few times as the path is not very well sign-posted! Overall a fantastic experience in the bush, made all the more enjoyable by Markus and Zoe sharing their expertise beforehand. 10/10 would recommend and we will definitely do again next time we are in Nelson!

isabelbA8583IR


January 4, 2023
We had a great time at the archery park. Me as a beginner and my partner as an advanced archer had a lot of fun hunting the monsters among the... read more beautiful native trees. Great instructions. Very knowledgeable and patient. Thanks to their help I saw immediate improvements after a couple of tries.
Mbabuder


January 21, 2023
Click icons for more raving reviews...
Getting To Archery Park Nelson
Archery Park is only a 15-minute drive from Nelson Central. We're located at Cable Bay Adventure Park on 194 Cable Bay Road, Nelson.
Drive 14km north from Nelson City towards Picton. Turn left into Cable Bay Road at the sign posts Cable Bay. We are 2 km down Cable Bay Road on the right-hand side – look for the Archery Park Flag and the Cable Bay Adventure Park sign.
Archery Park is part of the Cable Bay Adventure Park!
Make a day out of your visit to Archery Park by exploring the other amazing activities at the same location and refuel at our local Cafe.
A popular choice is to combine the Skywire experience with the Dragon Hunt. Take an adrenaline ride high above our hunting grounds!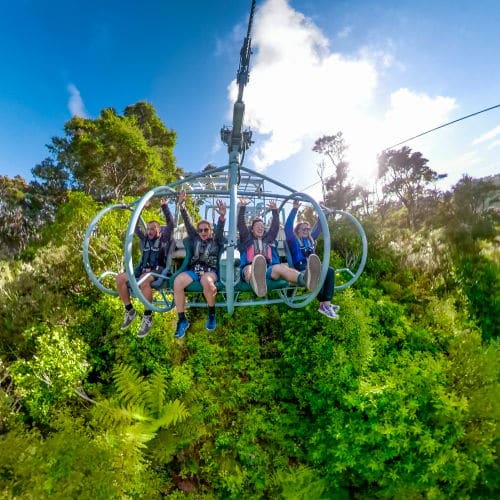 Check Out Some Of The Things We're Doing In Our Community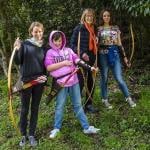 We truly believe that traditional archery has a positive effect on people of all ages. But the ones that need an adventure experience the most are often also the ones that don't have the means for such an activity. 
That's where our Robin Hood Scheme can help. Under the scheme, we work at cost to provide reduced rates to health and social services and community groups with a social purpose. We love to help because we care about people and the feedback we've received has been outstanding.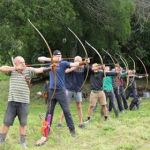 Archery Park is a social business – our main objective is to grow the sport of traditional archery in Nelson and New Zealand. This passion was desperately needed to keep us motivated to deliver you the most exciting news since we have started! 
Our plan is to offer a regular weekly club session where archers get together for archery lessons on our practise and 3D archery range and to have a good old yarn about archery. We're even planning to host upcoming competitions.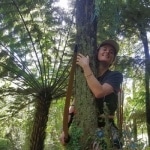 We love nature and the New Zealand wildlife, so we wanted to do our part for conservation from day one and are a Carbon Neutral business. Our servers are hosted green and all material is printed on recycled paper. We are also reducing the amount of foreign plant life, removing non-native weeds and aim to give our natives space to thrive.
To give birds a better chance of survival, we have started a trapping programme and we're baiting for wasps.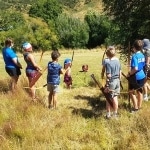 We partner regularly with local School Holiday Programme providers to allow kids to have a go at archery at Archery Park during the school holidays. But be quick, we're usually the day that is booked out first.
We also have a lot of families visiting us during the school holidays. And what could be better than half a day outside, strolling through the bush, equipped with bow and arrows? Get in touch if you are interested to hear about options.